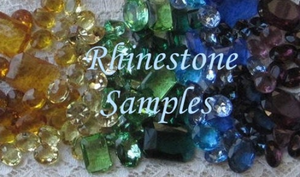 Rhinestone Samples
Want to see the rhinestone colors before you buy? No problem! I'm happy to send you samples of the rhinestones you'd like to see in person.

Here's what you need to do:

1. Select the number of stones you would like to see samples for
2. After you purchase, please send me an email at taylor@damesalamode.com with LINKS to the necklaces (or earrings) you would like a sample of. Please don't use the multi-colored necklaces- that can get very confusing!
3. Once your rhinestones arrive you can take a look at the colors and see how they look in person. This is especially good if you'd like to see how the colors look together.
4. You can choose to keep these rhinestones for future reference or you can return them to me for a refund of most of the purchase price! That's right- send them back and I'll refund you for the cost of the stones minus a 10% processing fee (this covers my packaging fees associated with the transaction). Please note that shipping is non-refundable and I won't cover return shipping, however I will offer you a credit on your purchase to cover the shipping that you paid for the samples (US orders only).

A few things to keep in mind about samples:

-Please note that due to the limited nature of my vintage supplies, there are a few rhinestones which I cannot send samples of due to their scarcity or cost. This includes most of my very large stones and my vintage Swarovski rhinestones, however as my stock changes all the time it isn't effective to list them all here. If you request a stone that isn't available for samples, I'll let you know and refund you for that part of your purchase.

-Please DO NOT request multiples of the same stones. These are not meant to be used as supplies and I will not send more than one of the same stone. If you request multiples, I will only send you one of the selected color/shape and will refund you for the rest of your purchase.
---
We Also Recommend