Blog — Earrings
Posted by Taylor Shelby on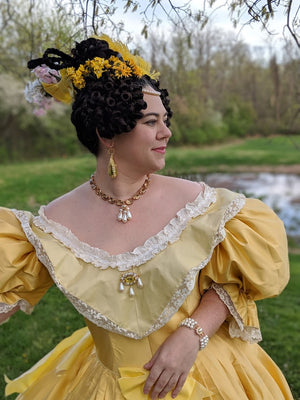 Oh the 1830s!  Such excess!  Such silliness!  Big hair and even bigger sleeves!  And oh yes...big jewelry to match.  Quite some time ago I received some vintage teardrops in the mail and they ended up being *much* bigger than I realized.  I tucked them away in a drawer thinking I'd never use them and then while doing some research on 1830s jewelry I came across this image:  Miss Major by John Wood Dodge, 1835.  Cincinnati Museum of Art. There are many examples of large-scale earrings in the 1830s, but these in particular had a resemblance to the pieces I had...
Posted by Taylor Shelby on
Welcome to the first of my semi-regular posts where I discuss some extant Georgian jewelry that is available for purchase.  I spend a lot of time lusting after original pieces on sites like Ebay, Etsy, Instagram, and various online antique sellers, so here's my chance to share some of the pieces that inspire me to recreate my own reproduction Georgian jewelry.  Every so often I'll post with some of my favorite finds.  Anyway, enough of my rambling- on to the pretties! (Click on any picture for a direct link to the listing) Regency Amethyst Paste Bracelet, Circa 1810 (Aesthetic Engineering...
Tags:

18th Century, Amethyst, Bracelet, Diamond, Earrings, Emerald, Extant Jewelry, Garnet, Green, Necklace, Paste, Real Georgian Jewelry, Regency Era, riviere